How to Buy a Holiday Lodge in Brean, Somerset: Your Ultimate Guide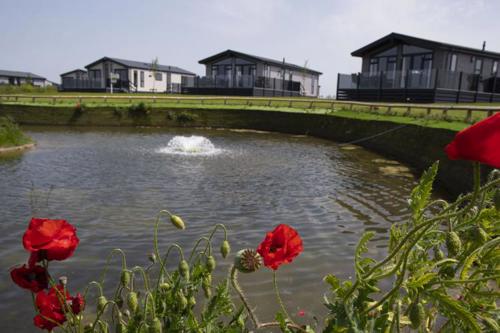 Brean Sands, nestled in the heart of Somerset, is a hidden gem for those looking to buy a holiday lodge in the UK. With its picturesque landscapes, sandy beaches and tranquil environment, it's no wonder many are considering it as their next "home away from home".
In this guide, we'll dive deep into the process, benefits, and frequently asked questions about buying a holiday lodge in this beautiful region.
Benefits of Owning a Holiday Lodge
A Personal Retreat
Owning a holiday lodge provides you with a personal sanctuary, a place where you can escape the daily grind and immerse yourself in tranquillity. It's your own slice of paradise, tailored to your tastes, budget, and preferences.
Potential for Rental Income
While it's a space primarily for you and your loved ones, there's always the option to let it out when you're not using it. This can provide a steady stream of income, helping to offset maintenance costs and other expenses.
Lifestyle Enhancement
Having a holiday lodge means spontaneous weekend getaways or extended breaks without the hassle of booking or planning. It's a lifestyle choice that offers flexibility, freedom, and spontaneity as well as quality time with family and friends.
Legacy for Future Generations
A holiday lodge isn't just for you; it's a legacy you can pass down to future generations. It becomes a place filled with memories, stories, and experiences that your family can cherish for years to come.
Why Choose Brean Sands?
,
The freedom to escape the hustle and bustle of every day life and retreat to a serene location is a dream for many. Brean Sands offers a unique opportunity in this regard. The lodges here are designed with modern comforts in mind, ensuring a luxurious stay every time you visit.
Unique Design
The lodges in Brean Sands stand out due to their well-thought-out design. They offer an open-plan space, ensuring that residents don't feel cramped. Depending on your needs, you can opt for two or three-bedroom models. Some models, like The Harrogate, even come with a separate hallway and utility, making them perfect for families and pet owners.
Year-Round Use
One of the standout features of these lodges is the year-round holiday use. Unlike other holiday homes that have a closed season, Brean Sands lodges are available for use throughout the year and come with a 35-year site license.
Security
The lodges are situated in a gated development, ensuring 24-hour security for residents.
Modern Amenities
All lodges come fully furnished with fully fitted appliances and are equipped with amenities like decking, parking space, free individual Wi-Fi connection, central heating and double glazing, and connection to all mains services.
Location Options
Depending on your preference, you can choose from various plots. Whether you want a lakeside view, a glimpse of the Brean Golf Club, or proximity to the Holiday Resort Unity facilities, there's something for everyone.
Moving In
Once you've made the decision and all finances are in place, the transition is smooth. Typically, the keys to your dream lodge can be handed over within two weeks, subject of course to all finances being in place, although in some cases it may take longer. On the other hand, where no financing is required, you may be able to move in within a week. While you're waiting to get the keys to your holiday home, you can start thinking about how to make it truly yours with some top static caravan bedroom ideas!
Financing Your Dream Lodge
It's important to note that traditional mortgages aren't available for these lodges as they aren't considered permanent residences, so they are sold with a licence instead of a lease. However, there are finance packages available, requiring as little as a 35% cash deposit with terms extending up to 10 years (subject to status, written terms available on request).
Holiday lodges, in the same way as static caravans, are not a financial investment, and will decrease in value over time. However, should you choose to rent out your holiday lodge, you can do so for as few or as many weeks a year as you choose which can help cover, or at least go towards, covering the running costs, and even offset some of the original cost of the holiday lodge, depending on how much of the year you rent it for. You can talk to us about potential rental prices, and how you go about renting out your holiday lodge.
There is also an option, subject to availability, of parting exchanging an existing static caravan you own on Holiday Resort Unity or a touring caravan.
Key Takeaways
With modern amenities and the potential for creating lasting memories, the lodges at Brean Sands provide more than just a holiday spot. Whether it's for personal use or occasional rental, these lodges meet various needs. As you consider this option, think of the serene Somerset landscapes, the nearby beaches, and the welcoming community. Brean Sands seamlessly combines luxury and nature, offering a distinctive experience. Contact the Holiday Resort Unity Holiday Home Sales team today on 01278 751 602 for more information!
Frequently Asked Questions
Is permanent residency in a lodge allowed?
While you can enjoy your lodge throughout the year, they're designated for holiday use due to planning permissions. This means they can't serve as your main home. A silver lining is that these holiday lodges aren't subject to council tax.
What if I decide to sell my lodge later on?
Selling your lodge is a straightforward process. You have the freedom to sell your lodge to anyone, provided the lodge remains for holiday use, not residential use. You can handle the sale privately or engage an estate agent.
Can friends and family of lodge owners use the resort's facilities without charge?
Absolutely! As a lodge owner, you'll receive 12 Owners' Passes to distribute as you see fit. Additionally, six car passes are provided. If you have guests without a pass, they can purchase one from our Reception and are still free to visit. For more details on this, our advisors are always ready to assist.
How are the lodges constructed?
Our lodges at Brean Country Club are premium modular type holiday homes. They're crafted in two separate sections under controlled factory settings, adhering to and even exceeding the British Building Regulation BS3632. Once completed, they're brought to the holiday park, carefully positioned, and hooked up to essential services. The design incorporates energy-saving uPVC windows along with internal walls that are designed for optimal thermal and sound insulation. The exterior features "Canexel" cladding, a sustainable wood-based material made from wood pulp and fibre, then sealed. This form of cladding is notably durable and is "ultra-low" maintenance so requires minimal upkeep. Each lodge on site is fully furnished upon purchase and boasts a unique decking area made of steel that complies with decking regulations and is finished with uPVC. The decking boards are of the highest quality, ensuring slip-resistance. Additionally, every lodge benefits from its block-paved driveway.
Are dogs allowed in the lodges?
Indeed, your four legged friends are welcome! However, we require dogs to be leashed when roaming the park. There are ample walking areas and parks nearby, including Brean Sands beach which is a pet-friendly beach all year long. Moreover, Brean Leisure Park has a dog-friendly café with a dedicated dog menu!