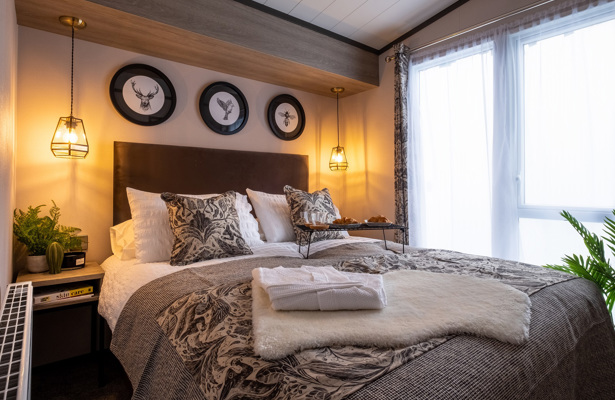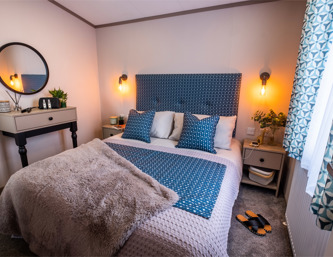 Static Caravan Bedroom Ideas
,
Top Designs for A Blend of Comfort and Style
When it comes to static caravans, maximising space without compromising on style is a common concern. Given that the bedroom is a sanctuary within your holiday home, achieving a harmonious balance of functionality and aesthetics is something important to consider. In this guide, we'll look at some popular décor trends and static caravan bedroom ideas. Keep reading to learn more!
Why Bedroom Design Matters in Static Caravans
Static caravans, with their inherent space limitations, challenge us to think innovatively. An expertly designed bedroom can:
Offer tranquillity and relaxation, elevating your holiday experience.
Enhance the perceived spaciousness of the caravan.
Potentially boost the resale value of your holiday home.
Top 6 Trends in Static Caravan Bedroom Interiors
When it comes to static caravan interiors, the bedroom is often an area that gets overlooked. Yet, it's an essential space, acting as your personal sanctuary within your home away from home. As more people embrace the charm of caravan holidays, there's been a surge in interior design trends specifically tailored for caravan bedrooms. Here's a look at some of the top trends that blend comfort with style: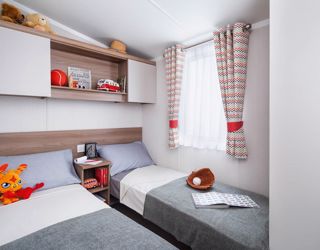 Neutral Tones with Pops of Colour
This trend leans towards a calm neutral colour scheme with shades like beige, light grey, and off-white as base colours. This can be done either by using a fresh coat of paint on your caravan walls or by scattering accessories around the bedroom. These neutral colours are often contrasted with bright, vibrant cushions, throws, curtains or wall art to bring in a splash of energy without overwhelming the room.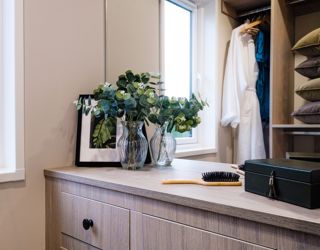 Multifunctional Furniture
Space is at a premium in static caravans, so multifunctional furniture is a game-changer. Think beds with under-storage, fold-out desks, side cabinets and wall-mounted bedside tables. They not only save space but also help keep the room tidy.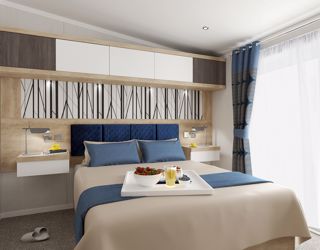 Nature-inspired Décor
There's something about being on holiday that draws us closer to nature. Reflect this in your caravan bedroom with botanical prints, wallpaper, wooden accents, and even houseplants suitable for smaller spaces.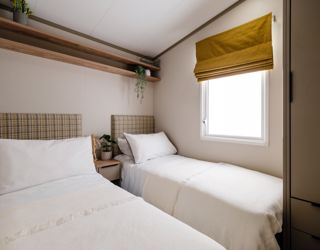 Minimalism
The 'less is more' approach works wonders in caravan bedrooms. Embrace minimalism by decluttering, choosing a select few standout décor items, and maintaining a cohesive colour scheme.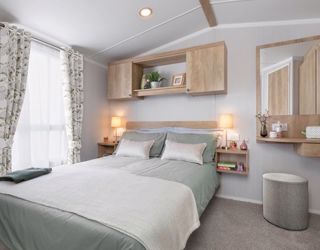 Maximising Natural Light
Make the most of any doors or windows in your static caravan bedroom. Light, airy curtains or blinds allow daylight to flood in, making the room feel bigger and brighter.
Personal Touches
Remember, this is your space. Incorporate personal touches like family photos, your favourite books, or travel souvenirs. It not only makes the furniture in the room feel homely but also serves as a reminder of cherished memories.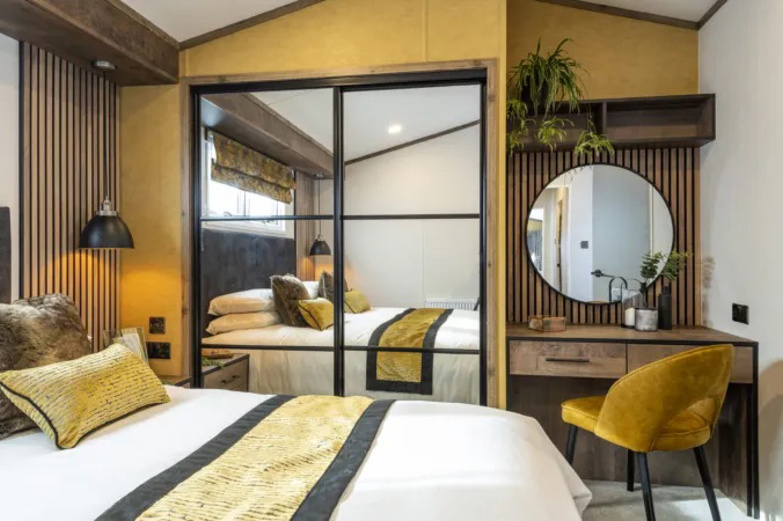 Creative Static Caravan Bedroom Ideas
Static caravan holidays offer a unique blend of adventure and homely comfort. But, often, caravan interiors can feel a tad generic. Luckily, with a pinch of creativity and inspiration, you can transform your caravan bedroom into a personalised haven. Here are some static caravan makeover ideas for the bedroom to help inspire you:
Wall Murals and Stickers: If you're hesitant about painting or wallpapering, murals or decals offer a wonderful alternative. Choose from whimsical patterns, inspiring quotes, or even scenic landscapes to instantly elevate the room's aesthetics.
Use Mirrors to Enhance Space: Full-length mirrors and decorative wall mirrors add style while creating an illusion of depth to make the room feel larger while serving practical purposes.
Flooring Considerations: Introduce warmth and designate areas with strategically placed rugs and other soft furnishings.
Maximise Storage Space: Take advantage of every nook and cranny by maximising your storage space. Opt for shelves above headboards or on empty walls to store books, belongings, or decorative items. Hanging organisers are ideal for the small space behind the door, they can store everything from clothes and toys to accessories and shoes. Consider beds or seating with built-in drawers for linens, clothes or other items. Using these storage solutions will give you more storage space and create an organised environment.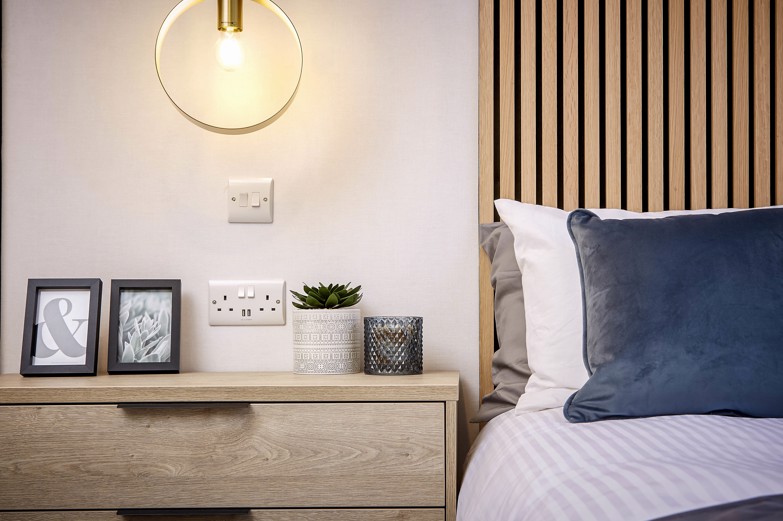 Material Choices for a Luxurious Feel in Your Caravan Bedroom
A top static caravan bedroom idea is selecting the right materials. This can elevate the personal style, decor, and ambience of a static caravan master bedroom exponentially. The allure of wood finishes, perhaps as a new bed or headboard, be it oak, cherry, or mahogany, adds warmth and sophistication to the space. They provide a timeless beauty that resonates with both traditional and contemporary designs.
Meanwhile, choosing the right fabric is crucial not just for aesthetics but also for comfort. Velvets, silks, and soft cotton bedding and cushions can transform a space, providing a plush and inviting ambience. While incorporating metals like brushed brass, stainless steel, or chrome can provide that touch of modern opulence. These metals, when used in fixtures or décor, introduce a fresh new look and contemporary flair to the caravan bedroom.
Final Thoughts
Your static caravan bedroom can be transformed into a stylish and functional haven with a little creativity. Regardless of space constraints, there are ample opportunities to infuse personality, warmth, and practicality into the design. The next time you visit your static caravan, you'll step into a bedroom that not only maximises space but also exudes comfort and character.
Are you inspired to revamp your caravan bedroom or looking for the perfect static caravan with all the luxurious touches? We offer a broad range of options tailored to cater to your dream holiday home needs. Simply contact a member of our team to get started!
Frequently Asked Questions
Are there any restrictions on what I can do with my caravan bedroom interior?
While you have a good deal of creative freedom, always ensure that any changes, especially structural ones, are safe and adhere to any park or manufacturer guidelines. It's wise to check with your caravan park or a specialist before making significant alterations.
How often should I update my caravan bedroom's design?
It's up to personal preference. Some people refresh their designs yearly to keep up with trends, while others might only do a full renovation or major update every few years. Ensure regular maintenance and small updates to keep the space fresh and comfortable.
Is it expensive to redesign a caravan bedroom?
Not necessarily. While there are luxurious items and designs that come with a heftier price tag, many cost-effective solutions can elevate your space. DIY solutions, upcycling, and smart shopping tips can help you achieve a stylish look on a budget.