Owning a Holiday Home in Brean
Whether it's for a weekend break, a surprise getaway or a long summer holiday, having your very own holiday home gives you the opportunity to grab your bags and be on your way whenever you hear that relaxing siren calling.

No need to worry about scrolling the internet for hours on end looking for a last minute holiday home to rent, because you'll have your very own to visit no matter how last minute your breakaway is.

If you're on the lookout for holiday homes for sale in the UK, then you'll have an abundant of choices to pick the keys up from. Nothing says a holiday home without being by the coast, right? Which is why we've put together this guide to explain exactly why Brean is the perfect place to make your holiday home purchase.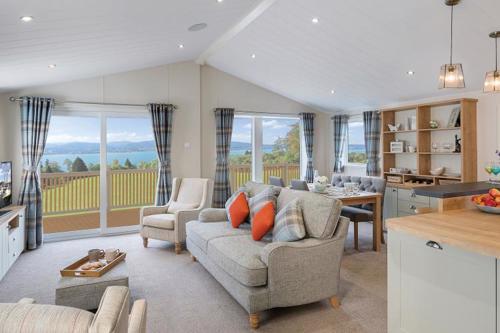 Steeped in History and Culture
A destination that holds great character and copious amounts of tradition, you can write your very own holiday home history here at Brean. Home to the famous Brean Down Fort, which was built in the 1860's, its job was to protect the ports and surrounding areas of the Bristol Channel. It came into use again in WWII, where it was transformed into a coastal artillery battery. It was actually the site of experimentation for the bouncing bomb. This historic treasure of the South West coast can still be explored today and is one of Brean's most popular attractions. 
Brean is home to two ancient churches. The Church of St Bridget was built in the 13th century and is a Grade II listed building, and Brean Methodist Church was established in the late 1700s. Both of these traditionally designed buildings prove popular among visitors as it gives them a real feel of the history seeping throughout the whole of Brean. 
If you're interested in feeling close to the arts, culture, and traditional customs of the South West coast, then Brean and Somerset is the ideal place to get your culture fix. Famous poet T.S Eliot's ancestors actually originated from Somerset village East Coker before emigrating to America. This explains why East Coker is Eliot's title of the second poem in his publication of The Four Quartets. 
This literary legend's bond with Somerset doesn't stop there, as his ashes were actually scattered among the grounds of East Coker's village church. So, whilst you're relaxing in your holiday home, you'll be surrounded by a plethora of history and culture, and have the opportunity to be in the heart of such an historic county.
Location Location Location
So important they named the TV show three times and the location of Brean's holiday homes are definitely something the other UK holiday accommodation sites are envious of. Stunning coastal views meets rugged, beautiful countryside landscapes, and both complemented with breathtaking sunsets lighting up England's South Western skies. 
Never mind about having to go abroad to feel the warm sand between your toes, because the coastal stretch from Brean Down to Burnham-on-Sea is the second longest in Europe with eight different beaches. Forget about the pebble beaches of Lloret de Mar, here in Brean you'll definitely be able to build those sandcastles. 
A true British county known for its rolling hills, Brean actually gets its name from the word "Bryn", which translates from Brythonic and Modern Welsh to hill.
Somerset Facts
1. Somerset was given its name by the ancient Welsh Celts and Saxons because they were able to live off the land during the summer months. 
2. There are over 11,000 listed buildings and over 500 ancient monuments.
3. Mary Shelley wrote the well-known Frankenstein after hearing about Andrew Crosse's experiments at Fyne Court. 
4. The oldest complete skeleton known as Cheddar Man, who lived approximately 10,000 years ago was discovered in Cheddar Gorge.
5. There are over 400 villages in Somerset. Some with extremely creative names such as Beer Crocombe, Beardly Batch, and Pauncefoot.
6. There are 32 farms solely dedicated to producing cider.
7. Famous people deriving from Somerset include:
Mary Berry

Jenson Button

Maisie Williams

John Cleese 
What Can You Expect From Your Holiday Home?
Aside from taking some time out to relax and enjoy time with your family and friends, Holiday Resort Unity's holiday homes offers you a huge list of activities you can be involved in. The list is that big, that you actually will need a holiday home to keep coming back to so you can get involved in all of them.
You may be thinking you're only gaining a beautiful holiday home, but you'll be gaining so much more. Over 7 miles of stunning sandy beaches, you basically have your very own private beach to step out onto - get those buckets and spades at the ready! 
By becoming one of our exclusive owners, you'll be invited to our (and your future) home owners lounge and events - definitely nights you won't want to miss out on. To give you that VIP feeling even more, you'll be able to take advantage of a number of different homeowner discounts and special offers - take a look at them here. 
As everyone likes to cause a bit of a splash on their holidays, you and the whole family will be granted FREE swimming at Brean Splash. You and the family can slip and slide your way down the Disco and Rainbow Rings slides. Be sure to capture these family memories on camera to post on Facebook and Twitter, because you'll have free Wifi across the whole park. 
Entertainment
Nothing says a holiday without having some entertainment to enjoy throughout the evening, right? Well, that's exactly how we feel, which is why we provide you with all the entertainment you'll need to keep all the families shoes dancing. 
For over 30 years, The Tavern in the heart of Brean Leisure Park is the go-to place in Brean for live music, comedy acts, and a night jam-packed with fun. Serving up tasty meals daily with a fully-stocked bar, The Tavern even welcomes the family's best friend with an outdoor pet-friendly patio. 
If you're after a classic American dining experience then get yourself over to RJ's early, because this busy venue serves American classics such as ribs, steaks, nachos, and of course all served with a side of top quality live entertainment. Don't forget, RJ's is famous for its BINGO nights. With a chance to win £1,000's with huge rollover jackpots, bingo has never been so fun.
Holiday homes are the perfect solution to wanting to spend more time with the family, and we believe family time is the most important time. Bucket and Spade is the perfect venue for the whole family, even the really little ones. With a beach theme throughout the whole place, mini beach chalets are scattered around with large beach balls hanging from the ceiling - you and the whole gang will love this family-haven. Resident children entertainers are always on hand to keep the little ones busy, with lots and lots of prizes to be won!
Activities
So, what can you really get up to at your holiday home aside from argue over Monopoly? Let's find out…
Golf
See how good your swing is with Brean Golf Club's 18-hole, par 69 stunning course. Surrounded by acres of beautiful landscapes, it doesn't matter if you're a beginner or consider yourself the next Tiger Woods, this golf course is certain to get you shouting HOLE-IN-ONE in no time. 
Gym
Wait, what's this, your holiday home offers a gym as well? That's right, Brean Gym is a new, state-of-the-art venue which offers a friendly fitness vibe. Packed with all cardio and quality matrix equipment, the gym also offers a sauna and steam room. With numerous different classes to attend, the choices at Brean never end. 
Brean Theme Park
Whether you're an adrenaline seeker or prefer to spin around on the tea cups, Brean Theme Park has a fun ride for every member of the family. Don't worry about the little ones feeling left out, because there's a host of mini-coaster rides for the young ones of the family. And, of course, thanks to you being a holiday home owner you'll get yourself a thrill-seeking discount, too.
Brean Play
Okay adults, time for you to take a step back from the ball pit because this one's for the kids. There are two sections to Brean Play…
Ocean World (under 4's), where the little ones can ride a seahorse, slide down a tidal wave of a slide, and shake hands with an octopus. 
Main Frame (3-11 year olds), where the kids can crawl through tunnels, swing from heights, and jump until their heart's content. 
Pump Track
We recommend bringing the kids' bikes, boards, or scooters to the holiday home so they can ride as long as they want along the Pump Track. Let them go wild riding up, down, and around the track and watch the holiday excitement buzz from them.
Everything and Anything
Like we said, there's so much to do with your holiday home and it doesn't stop there…
Arcades

Dog walks

Go-Karts

Markets and Car Boot Sales

Bowling
View the full list of facilities here.
The Great Outdoors
As beautiful as our holiday homes are, their surroundings are something to be in awe of. We're fully committed to protecting our stunning environment, which is why we've received the following accolades…
Featured on Hugh's Wild West

Secret Wood partnership with Secret World Wildlife Rescue

Gold Award in the David Bellamy Conservation Awards (fourth year running)

2018 Special Distinction Award

Honey Bee Friendly Park

5in5 Badge
You can read more about our conservation and environmental awards here.
So, alongside your holiday home, you'll also have the opportunity to explore the gorgeous natural surroundings in Brean. Home to hundreds of beautiful creatures, you and your new holiday home will be at one with nature. 
Did we mention you'll have access to a stunning fishing lake, as well? Our Fishing Lake will definitely take your breath away thanks to the incredible views, scenery, and aquatic creatures you'll be able to meet. 
Whether you're the pro-fisher or not, this lake haven has something for the whole family. Try your hand at a little fishing to spot creatures such as carp and bream, or if you're more for the dry land then enjoy a lovely picnic in the blazing sun, taking in the tranquil views of the surrounding lake.
You can expect to see the following creatures beneath the water…
Carp

Bream

Tench

Roach

Water voles
To learn more about these interesting creatures then check out our Somerset wildlife guide.
Grab Those Keys
Time to get those holiday home keys, right? Here's a quick guide on how to get your holiday home ownership and be in Brean in no time:
1. First thing's first - choose your holiday home. It's important you research the various options available so you can make the best decision that will suit you and your family perfectly. 
2. Now, time to choose a plot. Are you looking for 2 or 3 bedrooms because that will determine the plot you need. Don't worry, though, because our friendly advisors are always on hand to help out, just give them a call on 01278 751602
3. The normal standard deposit rate is 20% of the overall value of the holiday home, and then from there we take care of the rest to make sure your holiday home is secured and the keys are on their way to you.
4. Typically it can take up to two weeks from the deposit payment for you and the family to receive your holiday home keys. 
5. Kick back, relax, and enjoy your holiday home all-year round!
If you need some more information on the ins-and-outs of grabbing those keys, then you can read more about purchasing your holiday home here.
See You in Brean
Now, we can't deny that we're very excited to welcome you and your family to Brean. Make sure you stay in contact with us and show off your new holiday home on Facebook!