Putting Your Personal Stamp On Your Holiday Home
When you buy a static caravan at Holiday Resort Unity, it can still feel like a home away from home, especially if you make small changes to give it a touch of your own personal sense of style. Here are our top tips if you are buying to use as a holiday home for your use, and if you are planning to rent out.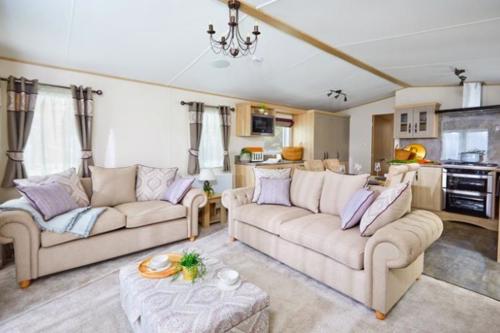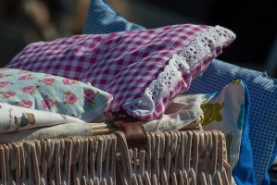 Bring some things from home
If you enjoy home comforts, then why not bring in some of the furnishings or accessories that you already have? Many of us have more than we need at home!  Adding these simple and familiar touches not only make you feel relaxed, but also cut down on the amount that you have to spend out as well as provide you with an opportunity to de-clutter.
The Choice is Yours
If you are planning on using your holiday home for the exclusive use of yourself, your family and friends, and are not going to be letting it out externally, then you are free to furnish your holiday home with whatever you wish!  Similarly, if you are going to manage the letting yourself, it is entirely up to you what you wish to provide and to what standard you wish to furnish your holiday home.
However, if you are going to use Newman's to manage the lettings, we do advise that you check with them before going and and buying items, as they will have a checklist of what needs to be in the caravan, which you will need to comply with.  Alternatively, they can purchase the items for you, but please discuss with them to make sure you don't go to any unnecessary expense.
We also recommend that you do an inventory if you are letting out your holiday home, so you can keep track of what you have in case anything needs to be replaced.
Pictures & Mirrors
You should not underestimate the power of the mirror, especially in a smaller space. Placed on a wall, opposite a window, a mirror will reflect the light and create the illusion of more space, perfect for caravans and holiday homes.
Similarly, pictures and wall art can certainly make anywhere feel more homely, but remember walls are not as solid as they are at home, so do make sure they are securely fixed, especially if hanging over seating or beds.
Don't forget the outside
It isn't the indoor space of your caravan that can benefit from a touch of style. Outdoors can also benefit from a personal touch. Purchase garden plants here.
Sheds can be added to your outdoor space as some additional room for storage. Ideal for hiding away games, buckets, body boards and other holiday friendly things!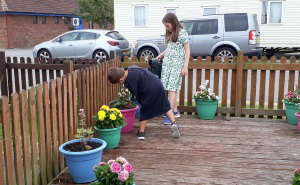 You could also install fencing around the outdoor space of your holiday home. This allows you to segment off your own particular space and you can pick from a variety of different options, which perfectly complements the style of your caravan.
However, if looking at sheds or fencing, please make sure you check with us before going ahead, as we do have some requirements that need to be adhered to. This is just to make sure that all health and safety requirements are adhered to.
Equipment
When you buy your holiday home, depending on the spec of the model you buy, the minimum equipment it will come with, in addition to obvious furnishings such as beds and seating, are a cooker and a fridge. 
It is worth making a note of what is included when you choose your holiday home, as it is easy to forget once you get home.
Here's a basic checklist of some of the essentials that you might need to consider buying:
- Crockery & Cutlery
- Toaster & Kettle 
- Microwave
- TV
- Pillows & Duvets
- Pots, Pans & Cooking Utensils
- Mop, Bucket, Vacuum & Cleaning Essentials
- Gardening tools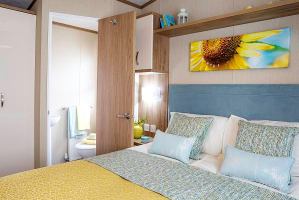 Of course, if you are keeping your holiday home for your use only, or just letting to people you know, it may be worth keeping supplies of bedding, towels, books and games, and items such as a travel cot and highchair if you have young children, to save you having to pack them each time.  We have launderettes on site, and you are welcome to put a washing line up in your garden, so no need to take the laundry home!
Many newer high-end models will come with a washing machine, but if you have a model that doesn't, and if you have space inside your caravan, you are welcome to have one plumbed in.  However, please note we do not permit white goods outside of the caravan, even if in sheds.
Again, if you are going to be letting through Newman's, we do advise you check with the first before spending out any money on equipment and accessories fr your static caravan.
Once you have bought your amazing new holiday home from HRU Holiday Home Sales, make sure that you take the time to decorate, design and it will soon be perfect for you. Find out more about our holiday homes for sale at our Brean campsite by speaking to a member of our team. Call us on 01278 751602 or fill in one of our contact forms.