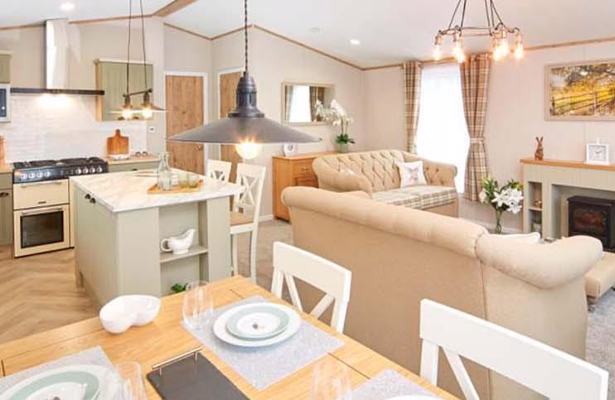 How Long Can You Live in a Holiday Home in the UK?
,
The Ultimate Guide
The picturesque charm of the UK's holiday homes has drawn many into considering a more extended stay in their serene retreats. Whether it's the allure of coastal breezes, the tranquillity of rural landscapes, or simply the comforting embrace of a place that feels like a getaway, the idea of longer stays is tempting.
But the question remains: "How long can you live in a holiday home in the UK?" Let's unravel the facts and guidelines for those contemplating turning their occasional retreat into a more frequent haven.
In the UK, the duration you can reside in a holiday home largely depends on the site's licensing:
Holiday Licence
The majority of holiday homes or static caravans are situated on holiday parks or sites with a 'holiday licence'. This typically means that most holiday parks are not licensed for year-round occupation. There will be specified "closed" periods, often during the winter months, where residents cannot stay in their holiday homes. The exact duration of this closed period varies but can range from several weeks to a couple of months. It's also worth noting that even during the "open" periods, the holiday home should not be used as a primary residence under this type of licence, so you can not live in a holiday park permanently.
Residential Licence
If a holiday park has a 'residential licence', it indicates that people can reside there all year round in residential park homes, effectively making it their primary residence. Residential parks and sites are rarer and come with their own set of regulations, often being subject to standard residential property laws, including council tax bands.
Holiday Resort Unity's Policy
At Holiday Resort Unity, our holiday parks' doors are open to guests from the middle of February through to the middle of November. While your holiday home is solely for leisure use, feel free to enjoy it as frequently or sparingly as you wish during our operating season. However, to ensure that the park remains strictly for holiday use, we allow the maximum stay of 28 days at the time. A holiday park home cannot be registered as your primary residence. Since we operate as a non-residential holiday park, we kindly request evidence of a separate primary address.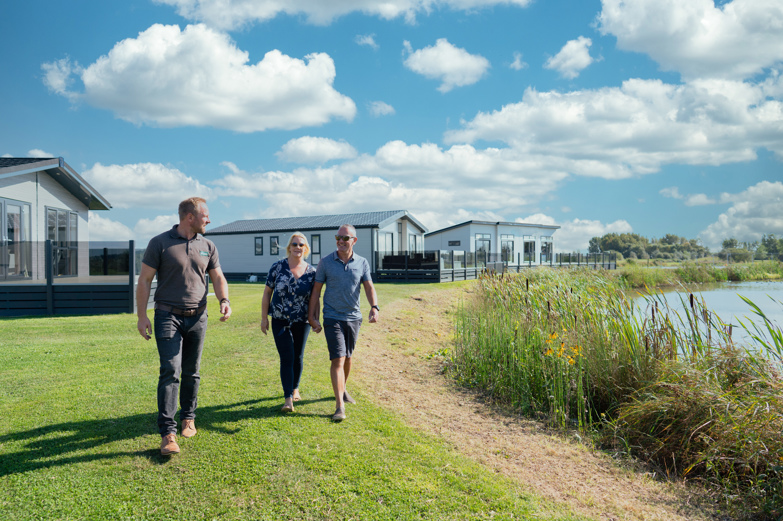 The Distinction:
Holiday Home vs Permanent Residence
While both holiday homes and permanent residences offer shelter and comfort, their primary uses, governing regulations, and associated responsibilities can differ significantly. Whether you're looking for a tranquil escape or a permanent nest, understanding these distinctions can help in making informed decisions.
Licensing and Regulations
Holiday homes often have 'holiday licences', which mean they're not intended for year-round occupation. There can be restrictions on how long you can stay consecutively for holiday purposes or periods in the year when occupancy isn't allowed for holiday use. At Holiday Resort Unity we allow 28 days of continuous occupancy to ensure that holiday park remains for holiday use only and not for more permanent residency.
Homes under the permanent residence category don't come with such restrictions, allowing you to live permanently throughout the year. They're typically registered under a 'residential licence agreement'.
Tax Implications
Holiday homes in holiday parks can fall under different council tax bands due to their non-permanent status. Additionally, if caravan park homes are rented out, the income may need to be declared.
A permanent residence is where you're typically registered to pay council tax, and the rates are usually set based on the property value and locality.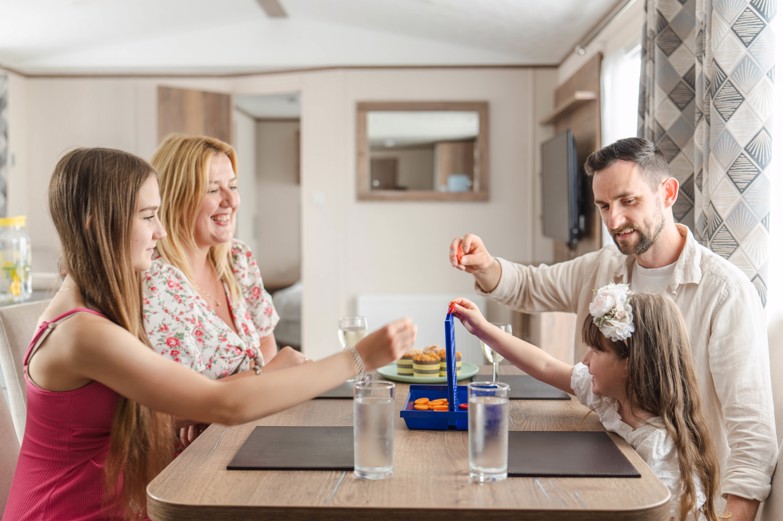 Top Benefits of Having a Holiday Home
Owning a holiday home isn't just about having another property; it's an invitation to a different way of life. Here's a look into some of the advantages that come with holiday home ownership:
Personal Retreat: There's an unmatched joy in knowing there's a place reserved solely for your relaxation. No hotel bookings, no schedule; just pack up and head to your sanctuary whenever you wish.
Financial Upside: Apart from being a space for leisure, a holiday home can be a fruitful investment. You can choose to rent it out when you're not using it, earning a secondary income. Plus, in sought-after locations, property values often appreciate, providing potential capital gains.
Familiar Comforts: Forget the sterile feel of hotel rooms. In your holiday home, you're surrounded by your chosen décor, your favourite books, and that comfy sofa that's just right. It's a home away from home.
Flexibility: Spontaneous weekend away? Extended summer break? With your own holiday home, you have the flexibility to holiday your way, without the constraints of peak season prices or availability issues and extend your holidays up to 4 weeks.
Building Traditions: Over the years, a holiday home becomes a repository of cherished memories. It can be the backdrop to family traditions, annual gatherings, or just that spot where you read, write, or muse.
Sense of Community: If your holiday home is in a park or a particular locale, over time, you become part of that community. Familiar faces, local festivals, and shared celebrations add another layer to the holiday home experience.
Control Over Upkeep: Hotels or rented cottages may not always be up to your standard of cleanliness or maintenance. With your own property, you ensure it's looked after to your liking.
Final Thoughts
Living in a holiday home in the UK for extended periods is a tantalising prospect. While our resort rules restrict permanent habitation, it's certainly possible to maximise your stay within legal limits. Always remember to familiarise yourself with the terms of your holiday homeowner' agreement and the implications of extended stays.
If you are interested in buying a holiday home that suits both short-term vacations and longer visits, check out our website or contact our friendly team of experts to find your dream holiday home today!
Frequently Asked Questions
How do I ensure my holiday home remains in good condition during the "closed" periods?
At Holiday Resort Unity, the yearly running costs cover the processes of opening and closing your holiday home. This package encompasses a thorough drain-down procedure as the season concludes and ensures everything is reconnected and ready for the next season. We're always on hand to provide guidance and further information on winterising your holiday home.
Can I let friends or family stay in my holiday home when I'm not using it?
Yes, friends or family can use the holiday home, but it's important to ensure they're aware of the terms of your agreement as well as the park's rules and regulations.
Are pets allowed in holiday homes?
Absolutely, pets are most welcome! Our park is tailored for furry friends, with pitches that feature safe, fenced-off gardens. Not only do we have designated dog walking areas within the park, but there are also numerous trails right outside the residential park just waiting to be explored. Plus, our cafe at Brean Leisure Park caters to our four-legged visitors with a special menu just for them!