We may be one of the largest holiday parks in the South West, but here at Holiday Resort Unity there are plenty of places to relax, and we are committed to protecting and enhancing our local environment.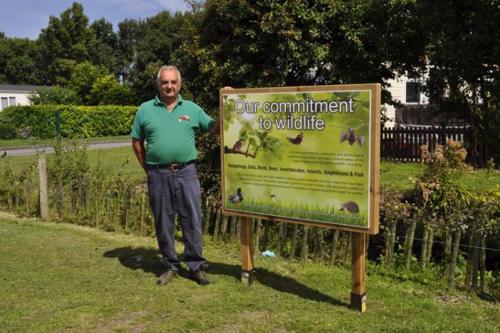 Conservation & The Environment at Holiday Resort Unity in Brean
Many large holiday parks and attractions are not thought to be synonymous with protecting the environment and are often perceived as generating mass amounts of people, that produce mass amounts of waste.
2018 saw great success for Brean's Holiday Resort Unity and its commitment to wildlife and conservation, from appearing on Hugh's Wild West in the spring for its achievement in balancing a busy tourism operation whilst maintaining the protection of its local environment, to recently opening the Secret Wood in partnership with Secret World Wildlife Rescue so animals can be safely released back into the wild.
Therefore, we are delighted to report that we have just received not just one, but three accolades for our commitment to conservation and the environment.  For the fourth year running we have received Gold in the David Bellamy Conservation Awards, through The British Holiday & Home Parks Association, as well as a 2018 Special Distinction Award. This means that we are regularly assessed by the scheme's team of local wildlife experts who take into account several factors, including, how we manage our land as a haven for wildlife, how we reduce our energy use, our policies and procedures to reduce, reuse and recycle and support to our local community.
In addition, this year we have also been awarded the "5in5" badge for our wildlife friendly hedgerows, and the accolade as a "Honey Bee Friendly" park!  Since 2016, the David Bellamy Conservation Award Scheme (DBCAS) has teamed up with the British Beekeepers Association (BBKA) to run the Honey Bee Friendly Park Project, which aims to get as many parks as possible working to conserve Britain's bees.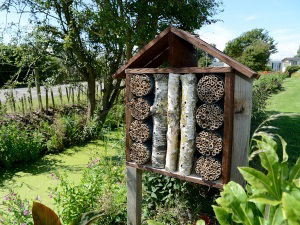 Quiet Spots at Holiday Resort Unity
The Fishing Lake
It's not called a fishing lake for nothing! Our lake is home to a whole host of fish including tench, roach, bream and carp so there's plenty of fish for you to look out for. We've also got the notorious 22lb carp hidden amongst the water, could you be among the few to actually catch it?
Picnics
Nestled under the Willow trees is a perfect place for a picnic. Whether you're after some quiet time to yourself or taking the whole family with you, enjoying some food treats under the beautiful sun by the water is a great way to spend your afternoon.
You also take a picnic over to the beach - it's literally just across the road.  Whatever time of year, enjoy a summer picnic or take a flask of hot chocolate!
Discover the wildlife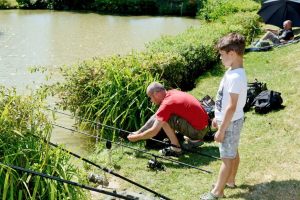 We don't just have fish here; there's loads of other wild creatures including butterflies, ducks, geese, birds, bees and buzzards.
We're proud to call our lake a haven for wildlife to thrive in, so we stay as environmentally friendly as possible. You will often see a resident family of ducks and geese at the fishing lake, which you are welcome to feed responsibly.
Please remember to take your litter with you, as any litter left behind could potentially have detrimental effects on the wildlife and the area as a whole.
Forest Schools
At the end of the 2018 season we trialled a Forest School.  As a result of our partnership with Secret World Wildlife and Rescue Centre, we have a Secret Wood.  As it is an official release site for rescued and rehabilitated wildlife, it isn't open all the time, so we will now be running various events through the season that allow access to the wood, including lots of forest school type activities including den building, fire lighting and toasting marshmallows, as well as educational wildlife walks and talks.
Sun bathing at the Fishing Lake
You don't actually have to be doing anything at the lake to enjoy yourself! Sit and soak in the sun rays on the grass and you'll be surprised how quickly time flies. Take a book and relax or simply watch the world go by.
Brean County Club
Head over to the new Brean Country Club, located in a tranquil development with views over the Golf Club and the Somerset Countryside.  Grab a drink and a bite to eat and enjoy the views, or test your talents with a round of golf!
To enjoy our fishing lake and all the other facilities we have on offer, whenever you want, why not look into our holiday homes for sale? For more information, fill in our contact form or give us a ring on 01278 751 602.